Custom Snapchat filters are the new way to promote your brand /event/yourself.
We'll help you create brilliant impressions and increase brand engagement by designing high quality custom snapchat geofilters for your events, parties, business or pleasure.
Snapchat is one of the planet's fastest growing and most exciting social media platforms, with over 100 million daily active users. Snapchat is the place to be right now for all brands and businesses looking to take customer engagement to a whole new level. In case you're just getting into Snapchat, a geofilter is like a normal Snapchat filter: a design you can overlay onto a photo you take in the app. But geofilters are different because they are only available when you are in a certain location.
Brands and businesses should definitely take advantage. The value of your branding impression on Snapchat compared to impressions on any other platform is insanely high. Why? Because not only are you putting your brand in a place people can see it, but filters give the viewer the ability to interact with it in a contextually relevant and fun way. The future of advertising and brand engagement lies with Snapchat. Geofilters help your business to increase brand awareness, reach a specific target market, or even offer discounts to customers who snap using your geofilter.
Custom snapchat geofilters are only available in the U.K, U.S.A, Canada, and Austraila. They are awesome for; weddings, birthdays, corporate events, political events, fundraisers, bar/bat mitzvahs, tournaments, conferences, festivals, and so on.
We can provide you with only the geofilter design and give a guide on how to activate your filter or we can provide you with both.
Get in touch today via

info@gbdesigns.co

or

+44 (0)7507497595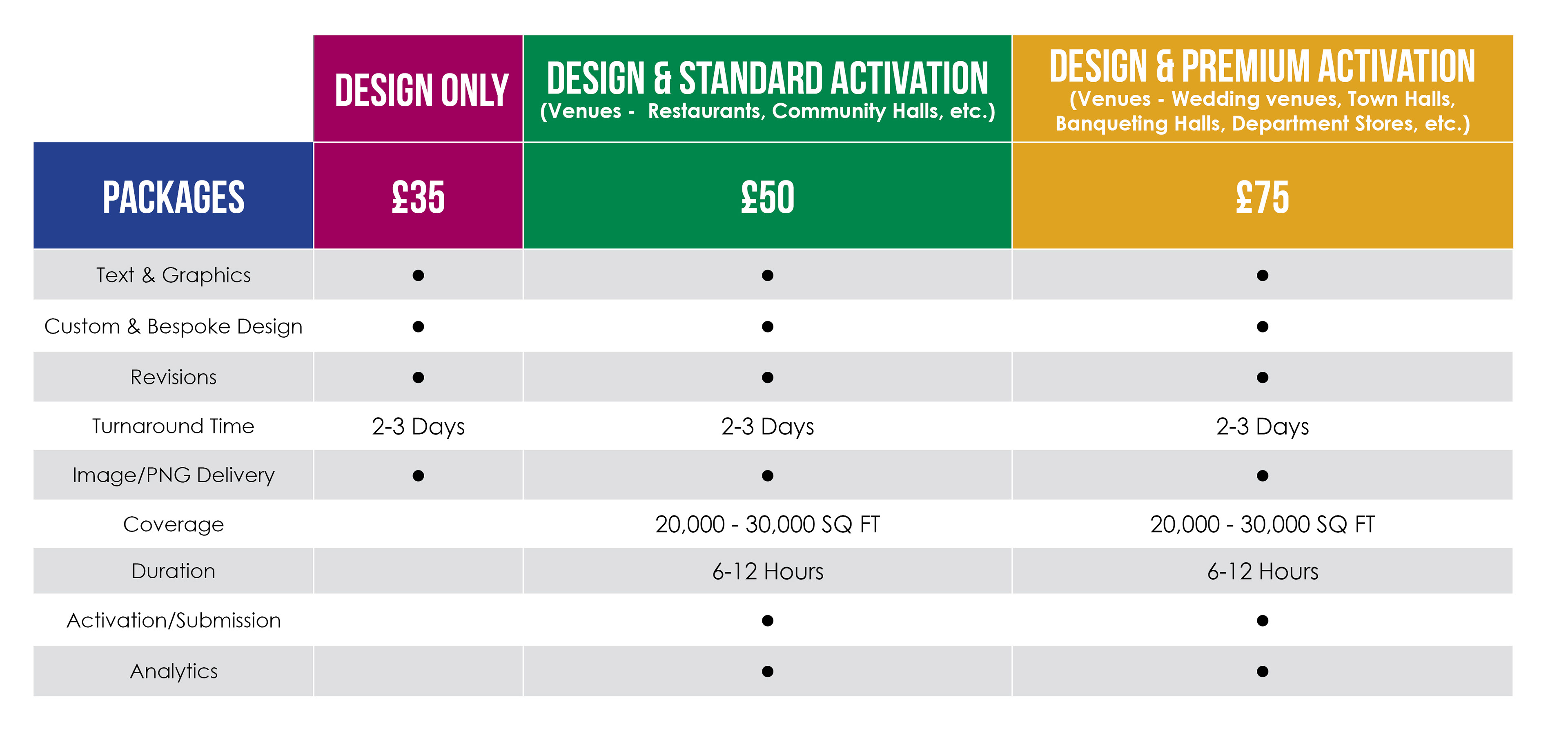 All filters are available on the specified day and time. Filters can be available for more than one day at an additional fee.  

If coverage of is bigger than 30,000 SQ FT client will be notified before proceeding with order as a bigger coverage will incur an additional fee.
Please see below the restrictions by Snapchat with regards to the Graphics for Geo-Filters: 
•
 

All graphics used must be 100% original.


• No logos or trademarks. The only exception is that we will accept college and university logos submitted by authorised officials from those schools. 
• No gambling/lotteries.
• No drug-related content.
• 

No phone numbers, URLs, email, Snapcodes, Social Media Handles, Social Media Logos


• 

No photographs.


• 

No hashtags. 


• 

Be creative and make it visually compelling.


• 

Don't cover up too much of the screen.


• 

Make sure it's relevant to the location and something that people will want to use.
*Snapchat does not design filters for you, and we're not affiliated with Snapchat directly. We're a 3rd party designer that provides you with custom designed filters to give you the option to upload to Snapchat.com! Or I assist on doing this for you as part of the service.
*Make sure your desired location (area, venue, building, etc) for your custom geofilter has no network problems. I am not responsible for snapchat filters not working due to network and low signals as we're just a 3rd party designer as mentioned above and assist on making sure the design meets the required submission guidelines for you custom geofilter design to get approved.
*Snapchat's On-Demand Geofilter Terms and Conditions state that;
If your Geofilter is made available on the Services, Snapchat will try to deliver it to Snapchat users who are located within the geographic area you selected, at the start and stop times you indicated. Snapchat does not guarantee perfect delivery, and Snapchat does not guarantee that any users will choose to use your Geofilter. Some users within the area may not see the Geofilter, and some outside the area may see the Geofilter. Accuracy of delivery depends in part on the strength of a user's GPS or Wifi signal. Users with location services or filters disabled will not see Geofilters.